There's little doubt that when Roberto Firmino put the ball in Manchester United's net for Liverpool's seventh goal on Sunday, at least three sides of Anfield Stadium lost their collective minds, however, one youngster will be regretting his actions at that point for some time to come.
As the Reds celebrated, pandemonium ensued in the stands, and one 16-year-old thought it would be a great idea to run onto the pitch and join in.
Unfortunately, he slipped as he did so taking out Andrew Robertson and Curtis Jones in the process, both of whom looked in some discomfort afterwards.
TV footage at the time appeared to show an incandescent Jurgen Klopp, and whilst the problem was caused accidentally, the German's anger was justified.
Stewards are employed at football grounds to keep order, and that includes keeping people off of the pitch.
Liverpool reacted angrily too, releasing a strongly worded statement on Monday via their official website which said:
"The offender ran onto the pitch and collided with Liverpool players, risking injury, as they celebrated the seventh goal in front of the Main Stand.
"There is no excuse for this unacceptable and dangerous behaviour. The safety and security of players, colleagues and supporters is paramount.
"The club will now follow its formal sanctions process and has suspended the alleged offender's account until the process is complete. If found guilty of the offence of entering the pitch without permission, the offender could face a criminal record and a lifetime ban from Anfield and all Premier League stadiums.
"These acts are dangerous, illegal and have severe consequences."
The teenage rampager was escorted from the field by Police and arrested, and, per Evening Standard, they are now co-operating with Liverpool as to what happens next.
It appears, fortunately, that no real damage was done to either Robertson or Jones, but the wider issue is one of security.
We saw some years ago how a Birmingham City fan was allowed to enter the St. Andrew's pitch and land a punch on Jack Grealish, then an Aston Villa player.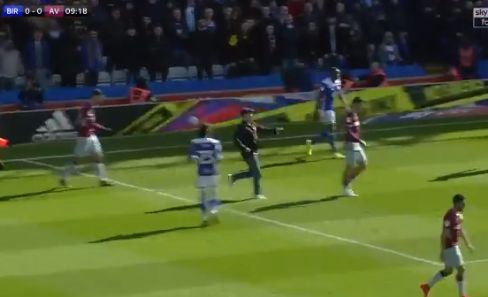 Supporters running on to take selfies with the game's biggest names has also become a worrying trend.
How soon will it be before someone with quite different intentions manages to get to their intended target?
This type of behaviour has to be stopped.